Degrees awarded at LSMU: among health professionals – sports masters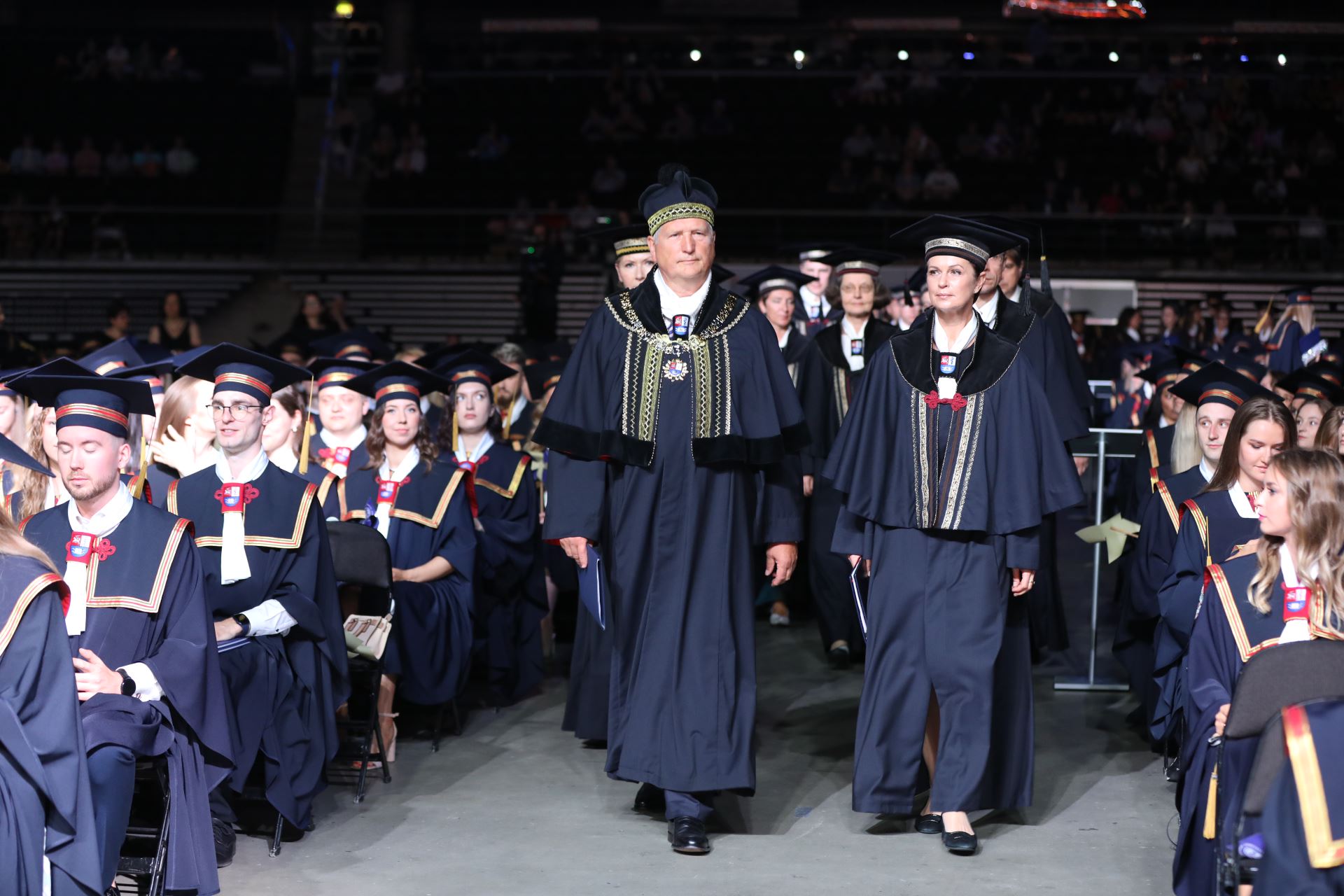 Tuesday was a special day for more than a thousand students at the Lithuanian University of Health Sciences. Degrees were awarded to them at the Žalgiris Arena. This is the 100th class of the University of Lithuania, a continuation of which is LSMU. Among them are many Lithuanian athletes.
Did it together
The festive atmosphere had taken over the entire arena and its surroundings. Graduates rejoiced at having completed this important stage of their life and did not spare sincere words of praise for their Alma Mater and planned their further academic, professional lives.
"An interesting and responsible period of life awaits you, with exciting challenges and disappointments, choices, opportunities" said R. Benetis, reminding that it will always be important for the university to know how their graduates succeed outside the university.

Gintaras Skorupskas, the Chairman of the LSMU Council, thanked the graduates and their parents for choosing LSMU to study. "Here is the day you have been waiting for: victory is yours. The University, despite all the difficulties, made great efforts to meet the expectations of the students and their loved ones. Your hard work, desire, and faith in your education, but your degree that's just the beginning. It is the beginning of your responsibilities for your own life," said G. Skorupskas. The chairman of the LSMU Council reminded: the last few years have changed everyone's lives irreversibly. Yet faith, hope and unity overcome all the adversities of the world. "Believe and live – for Lithuania, for others – but take care of yourself, because Lithuania needs prominent and unburned heroes," G. Skorupskas wished.

HE Cardinal Sigitas Tamkevičius reminded the audience of an old saying: relieving pain is a divine work. "Congratulations to you who have dedicated your life to a divine profession that has almost no equal – it requires great dedication and love for the suffering person," said S. Tamkevičius.

Swedish Ambassador to Lithuania Inger Buxton congratulated LSMU on its honourable centenary, noting that she was very pleased that young people from Sweden were studying at LSMU. In her native language, the Ambassador warmly congratulated her compatriots graduating from LSMU.

Ieva Petrutytė, the President of the LSMU Student Association, emphasised that studies at the Lithuanian University of Health Sciences were strongly and for the better changing a young person. "You made new friends, gained a profession, improved as people, grew up as personalities. You are our pride, our future. Don't stop improving, "I. Petrutytė wished.
From judo to chess
This year, 1,009 graduates of the faculties of Medicine, Dentistry, Pharmacy, Veterinary Medicine, Public Health, Nursing and Animal Sciences graduated from LSMU. 185 obtained a Bachelor's degree and 824 a Master's degree. Among the graduates of this year are 150 international graduates. Most of them, about 100, are future doctors from Sweden, Germany, India, Spain, and Great Britain. As many as eighteen champions of athletics, volleyball, swimming, basketball, chess, tennis, judo, orienteering and other sports, winners of tournaments and members of the university team at LSMU graduated from medicine, dentistry, nursing, and public health, respectively.

Giedrė Vanagaitė, a multiple winner and prize-winner of Lithuanian championships and student competitions, a participant of European championships, a member of the World Chess Federation, and a member of the LSMU chess team, is holding a degree in the field of medicine together with her classmates. In the sixth year, the graduate was able to devote less time to sports due to her studies, but until then she was able to reconcile everything by properly planning activities in accordance with the work and rest regime. "It simply came to my notice then. I can't imagine myself anywhere else, only in medicine. It is an exceptional field and a great honour to study it," said G. Vanagaitė, whose heart is leaning towards cardiology and family medicine.
In the footsteps of relatives
Smiling athlete Gabrielė Čeponytė is a physiotherapy specialist. This member of the Lithuanian and LSMU athletics team, a multiple winner of Lithuanian and Lithuanian student competitions, a participant of European championships, and a master of sports, also plans to continue her studies at LSMU – she will pursue a Master's degree.
She followed in the footsteps of her relatives. "There is more than one doctor in my family. In physiotherapy I can use my sports knowledge, combine it with health knowledge. I have always been interested in healthcare and health improvement," said G. Čeponytė. She made no secret of the fact that it took a lot of effort and will to reconcile studies and sports.
Very welcome in the employment market
The interviewed LSMU graduates did not hide that the determination and discipline developed by sports is also very useful in achieving academic heights.
Currently, over 8,000 students study at LSMU. It is one of the most international universities in the country, with students from more than 87 countries from around the world. Specialists in various fields of health trained by LSMU are highly welcome in the employment market and highly valued by employers. In the first year after graduation, as many as 90% of the university's graduates find employment. This is one of the best indicators in Lithuania.