Freshman's White Coat Day
< Back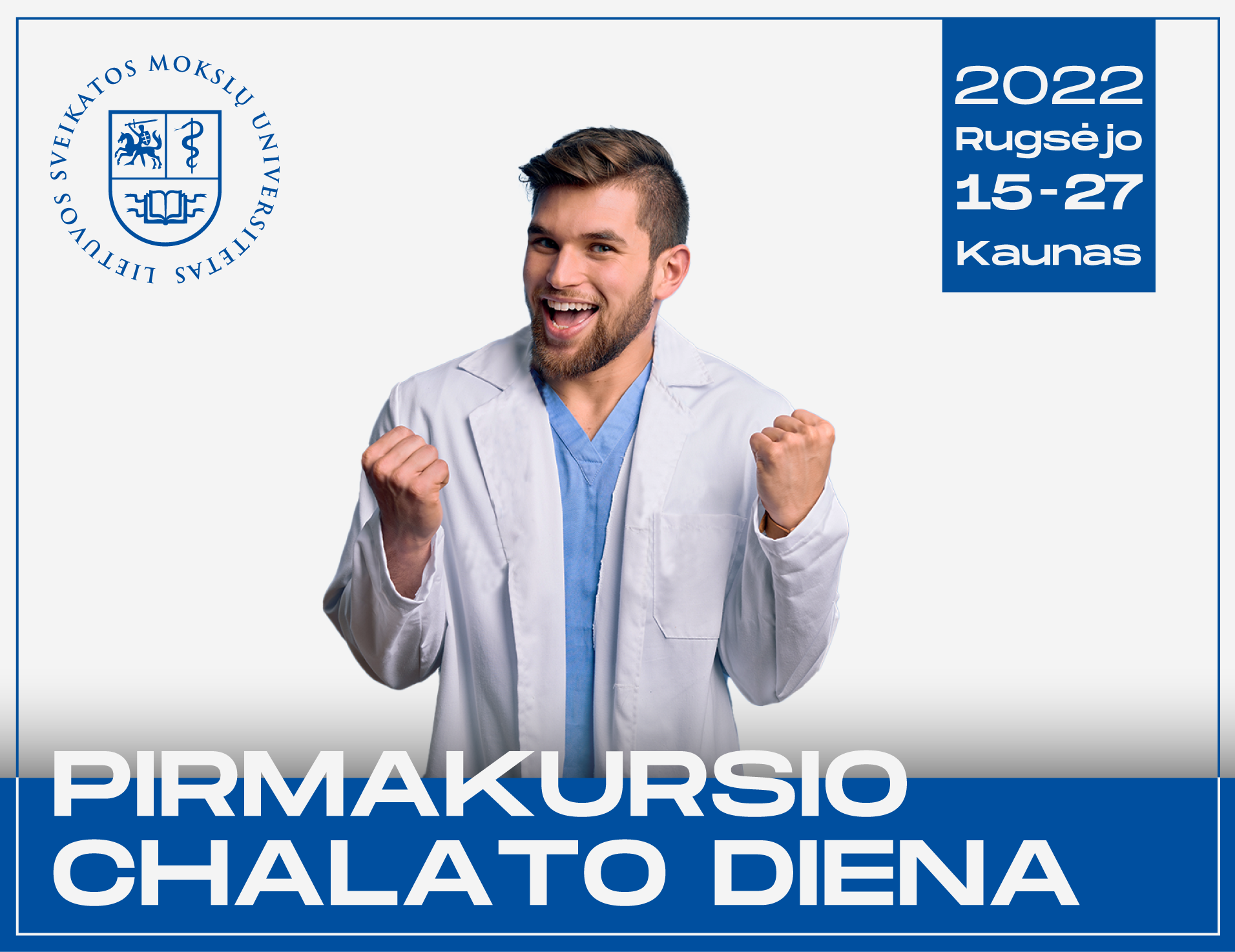 The Lithuanian University of Health Sciences, together with partners, congratulates the freshmen on choosing the honorable medical profession. This profession is best represented by a white coat that exudes comfort and impeccable hygiene. This outfit not only makes doctors stand out from the crowd, but also makes them feel comfortable during often stressful and tiring work shifts.
To encourage future medics to step boldly into the undiscovered world of medical knowledge, together with partners we will present them the most important clothing of the study period – WHITE COAT.
During the event, we will also tell you everything that is relevant for first-year students, introduce you to the Student Affairs Office, which was newly created this year, extracurricular activities and student organizations. Freshmen will also have the opportunity to get to know university's partner, who will come not empty-handed, better.
Event program:
opening;
presentation of LSMU Student Affairs Office;
presentation of partner;
presentation of student organizations and extracurricular activities;
the presentation of white coats.
Event duration is about 1,5 hours.
The ceremonies for students from different faculties will be held on:
For students of the Faculty of Pharmacy – September 15th, at 11 am in faculty's A-203 auditorium (partner– "Gintarine vaistine");
For students of the Faculty of Nursing – September 26th, at 1 pm in Faculty's of Pharmacy A-203 auditorium (partners –  "Egles Sanatorija", "Pirmas Zingsnis", "Anteja", "Vaistai.lt");
For students of the Faculty of Odontology – September 22nd at 12.45 pm in prof. V. Lasas auditorium of the Center Palace of Medicine Academy (partners – "Straumann" and "KDK – D. Karpaviciaus klinika");
For students of the Faculty of Public Health – the date and place are to be confirmed;
For students of Medical and Veterinary Genetics – date and place to be specified;
For Medical and Veterinary Biochemistry students – date and place to be specified;
For students of the faculties of Veterinary Medicine and Animal Sciences – September 27. at 2 p.m. (partner – "KIKA GROUP") – the place to be specified.
The history of white coats
The first medical clothing appeared in the Middle Ages and looked completely different then than it does now. Nurses' uniforms were based on nuns' clothing. A special cover covered their hair and neck, while the almost floor-to-ceiling abbot was heavy and impractical. Doctors wore plague costumes – wrapped in dark clothes from head to toe, and their faces were hidden under a characteristic mask with a beak and peculiar glasses. It was believed that a perfume-soaked cloth placed in the beak protected doctors and prevented them from inhaling disease-contaminated air.
Medical uniforms began to change in the second half of the 19th century. Nurses' uniforms gradually lost their resemblance to religious dress, and doctors, who began to pay more attention to hygiene and comfort, began to wear white clothes. At the same time, as the importance of sanitation was realized, rubber gloves were also introduced. These attributes, along with the familiar stethoscope, gradually became a symbol of the medical profession.
Meanwhile, current fashion offers an extremely wide selection of professional medical clothing. Modern medical gowns are comfortable, practical, and made of quality fabrics. It is true that now doctors can choose from many colors. However, practice shows that most of them stick to the white coats that are best known to the public and have already become classics.