Ukrainian university professors and doctors were trained to provide assistance in extreme conditions at LSMU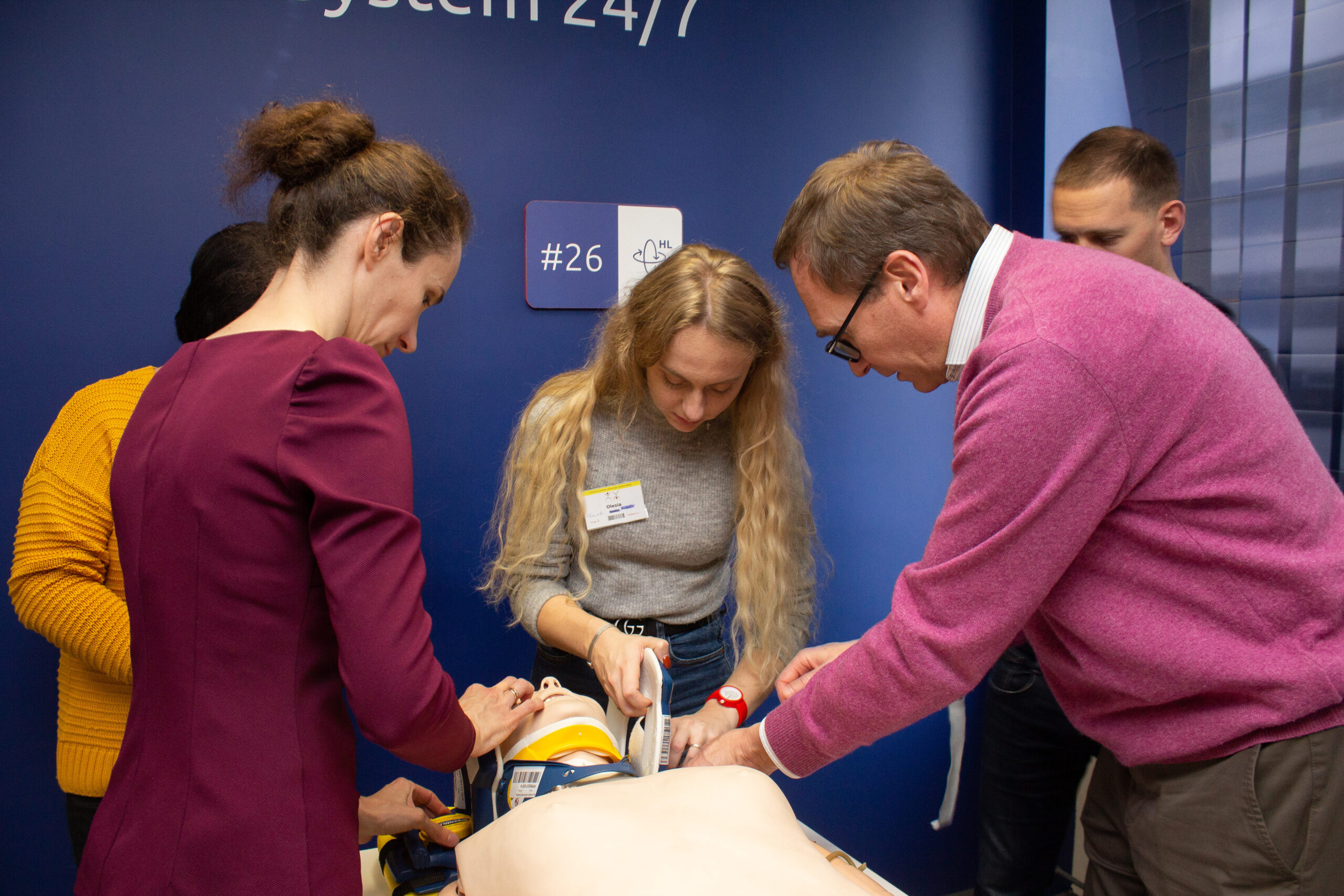 Twenty Ukrainian lecturers and doctors of different specialities from Lviv, Odesa, Bukovina Medical Universities and the Faculty of Medicine of the Uzhhorod National University trained this week at the Lithuanian University of Health Sciences (LSMU) to provide assistance to severely injured patients. The doctors studied the methods of unified and maximally effective work in war conditions according to the American ATLS course. During the training, they also shared their experience in conducting simulation and other training for students, interns, residents, military doctors, soldiers, policemen, territorial defence volunteers and civilians.
"What our health specialists learned this week at the Lithuanian University of Health Sciences will be widely applied throughout Ukraine. The help of the university is exactly what we need, and this training only brings us closer to the shared victory.
Training is important not only in a professional sense – but it is also a strengthening of human connection and an investment in the future relations between our nations. Lithuanians and Ukrainians are two friendly, democratic nations, and human connection is the foundation of this friendship", Viktor Hamotskyi, adviser on political issues of the Ukrainian ambassador to Lithuania, said at the meeting with the participants at the training.
According to LSMU Vice-rector for Studies Prof. Kęstutis Petrikonis, these trainings aim to share experience on how to coordinate the process of providing assistance to injured people during emergency situations. "Only the right organisation of aid can save many lives. Also, these trainings allow us to get to know more and more people who have experience of war trauma and will be able to share this knowledge with us in the future. The connections established during the reconstruction of Ukraine will be very important for the University as well. In addition, the trainings that took place were particularly useful for us – we learned about the experience of lecturers from various fields and Ukrainian universities in conducting studies in war or frontline conditions," said the vice-rector.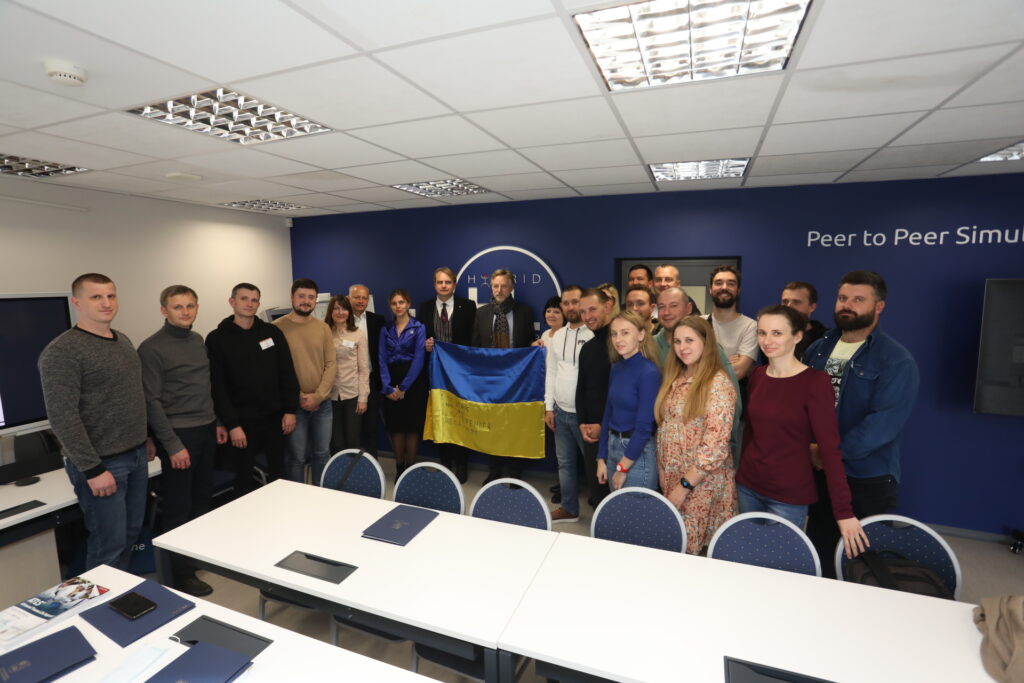 Prof. K. Petrikonis thanked LSMU's International Relations and Study Centre, the Department of Disaster Medicine and the heads of different departments of the University and Kaunas Clinics, doctors and professors who held courses and worked pro bono, as well as the heads of Ukrainian universities who helped organise important training for such a large number of health specialists during the war. The contribution of the Minister of Health of Ukraine, who gave personal permission for male trainees to cross the border of Ukraine and come to these trainings, is also very important.
"We hope that this is the beginning of a long road to ending and winning the war and rebuilding the destroyed Ukraine. At the moment, they are fighting for our freedom, in the future we will be partners in joint activities", said Vice-Rector Prof. K. Petrikonis.
Will return to Ukraine with specific skills
According to the head of the Department of Disaster Medicine at LSMU, Prof. Dinas Vaitkaitis, the training is based on the Advanced Trauma Life Support (ATLS) course of the American College of Surgeons, which LSMU and its partners have the right to teach in Lithuania but cannot do so in Ukraine. The course sets an international standard for providing assistance in case of particularly severe trauma, organising the work of trauma teams and the trauma system. The training was partially funded by the Marius Jakulis Jason Foundation.
Lecturers and doctors of various specialities were trained at LSMU to work in extreme conditions: mainly surgeons, as well as orthopaedic traumatologists, paediatricians, doctors of internal medicine and other fields.
According to Prof. D. Vaitkaitis, among the participants there are those who worked at the front, in the war zone. Eight doctors who came from Odesa are in direct contact with the victims, some people themselves took part in military operations while providing aid. Lviv Medical University lecturers train all soldiers going to the war zone.
Cooperation since the beginning of the war
"Our colleagues from Ukraine passed remote instructor training courses at the beginning of March and taught their junior colleagues – paramedics, nurses, as well as people serving in the army and territorial defence – simpler first aid measures to be used in a battle environment. Until now, every Monday we communicate with our colleagues from these universities and share the results of our achievements, as well as provide help and advice to each other," said Prof. D. Vaitkaitis.
Having already trained over 8 thousand compatriots, Ukrainians came to LSMU to improve their qualifications, acquire additional competences and share their experience. At the end of the course, all participants successfully passed an exam to confirm their qualification.
Work in war conditions, notes prof. D. Vaitkaitis, causes constant stress, makes it difficult for patients to survive. It is difficult to imagine how to work in a hospital without water, electricity, heat, windows, which the civilised world is used to. "To prepare for this, you need to cross many moral boundaries, you need to pay attention to this matter. People think that knowledge is important, but it is not knowledge that is important here, but ability. It doesn't matter how many times you've heard how to ride a bike; you won't do it without trying," said Prof. D. Vaitkaitis, Head of the Department of Disaster Medicine.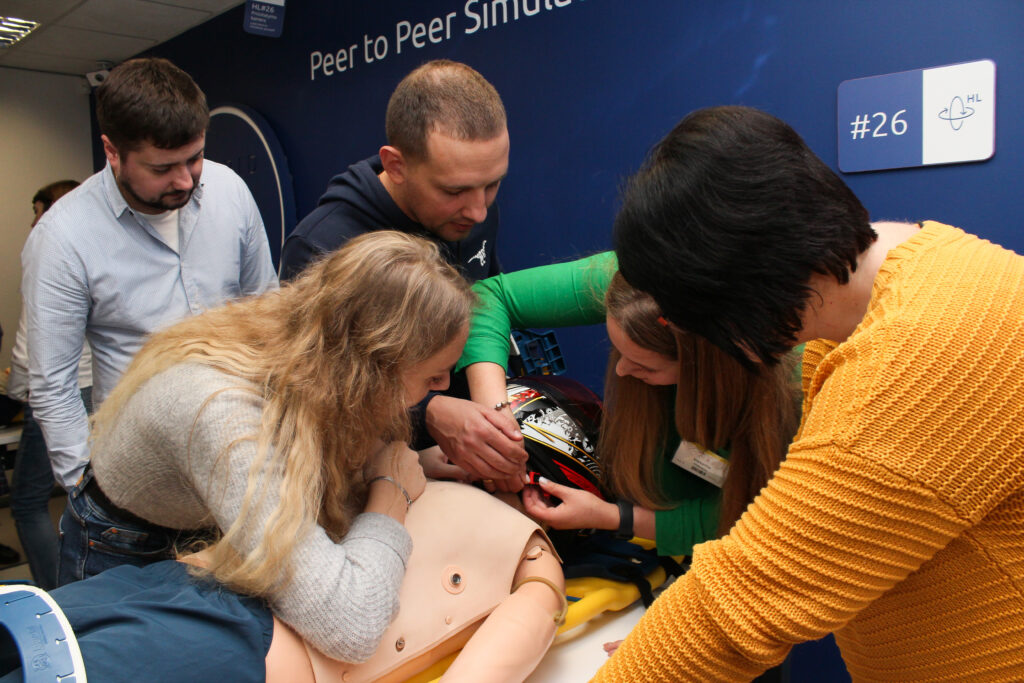 Determined to help their country
Andryi Dobrovolskyi, Head of the Department of Simulation Medicine at Odessa National Medical University and lecturer, says Ukrainian medics are doing their best to treat both soldiers and wounded civilians.
"We cannot break down we must take care of those who need medical help. At LSMU, we learned to help in cases of severe injuries, it is a very interesting, useful course for civilians and combatants, related to specific assistance to severe trauma patients. We are in this great city, we are gaining very important knowledge and skills here, which we will use for the benefit of our country", assures A. Dobrovolskyi.
He was seconded by a colleague, Lect. Nataliia Drobinska from Danylo Halytsky Lviv National Medical University: "We want to improve the skills and take that knowledge back to Ukraine, where we would pass it on to our students, doctors, soldiers and civilians so that they know how to save their lives and the lives of others. This is how we want to help our country in this difficult time."
According to the doctor, it is very important for medics to know how to work in a team. Everyone is different and can make mistakes in certain situations but having a consistent sequence of actions can get the job done better, especially in life and death situations.
"It is difficult to make a general assessment of the situation in Ukrainian hospitals. We didn't believe this could happen, but we're doing what we have to do, over and over again, and we're hoping the situation stabilises. We can't get tired; we have to work. Sometimes it's very difficult, but it's not a problem, because we can help residents, soldiers and our country", N. Drobinska summarised the situation in Ukraine.
MOMENTS FROM THE TRAINING