All about studies at LSMU – in Higher Education Fair in Dublin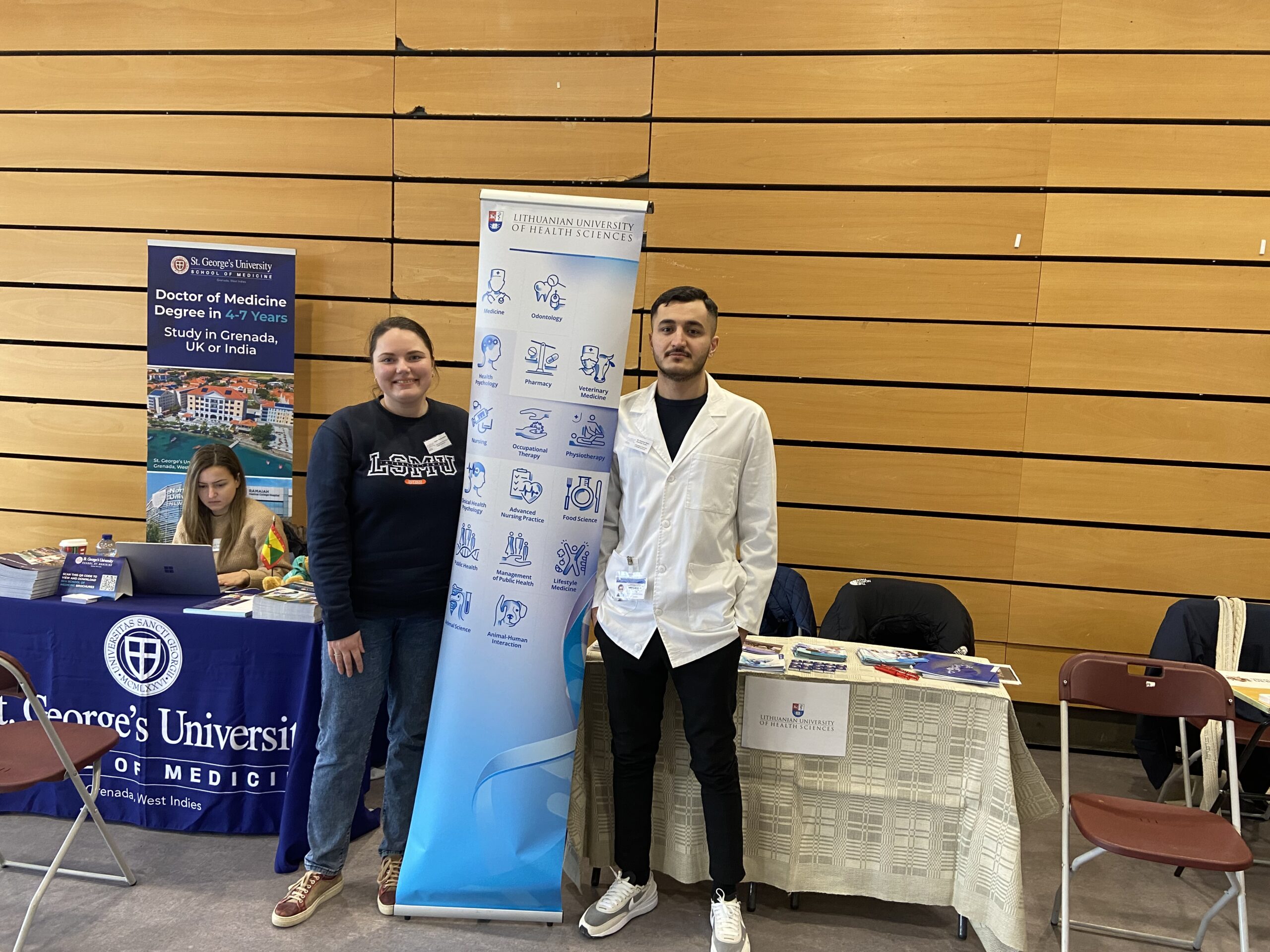 The Lithuanian University of Health Sciences representatives participated in the annual Higher Education Fair, organized by the Dublin International Foundation College (hereinafter – DIFC) on 9-10 February 2023. About 30 educational institutions from the United Kingdom and Ireland took part in the event, among them LSMU, the University of Debrecen and Charles University were the only institutions outside these countries. The main goal was to provide DIFC students with the opportunity to communicate directly with the representatives of universities, to know better application requirements and supply more information on studies abroad.
LSMU has been successfully cooperating with The Dublin International Foundation College (DIFC) for several years. The college has a one-year study program for students from countries outside the EU which helps them to reach the education level needed for applying to major European universities.
LSMU representatives have been given the opportunity to do university presentation for DIFC students. International programme coordinator Agnė Jašauskaitė has presented LSMU infrastructure, study programmes, and student life to the participants of the Higher Education Fair. LSMU 5th year Odontology student Abdullah Majid Abdullah Alzaki shared his experience and counselled prospective students during Higher Education Fair.
Prospective students have actively communicated with our University representatives, asking questions about study quality at LSMU, the competencies of the professors, the microclimate in the groups, extra-curricular activities, psychological help and career opportunities after graduation. During the Fair at LSMU stand participants were interested in the entrance exam to LSMU requirements, and how to prepare better for studies. They could get the newest informational brochures about university infrastructure and study programmes, and LSMU souvenirs.
Collaboration between LSMU and DIFC has proved already fruitful: the increase of awareness in Ireland of LSMU English-taught Medicine, Nursing, Physiotherapy, Odontology and Pharmacy study programmes; students trust our university and its study quality.                                                                                                           
Text & photos: Agnė Jašauskaitė, International Programme Coordinator,International Relations and Study Center