International Week at LSMU, Lithuania! "Academic Heroes Week"
< Back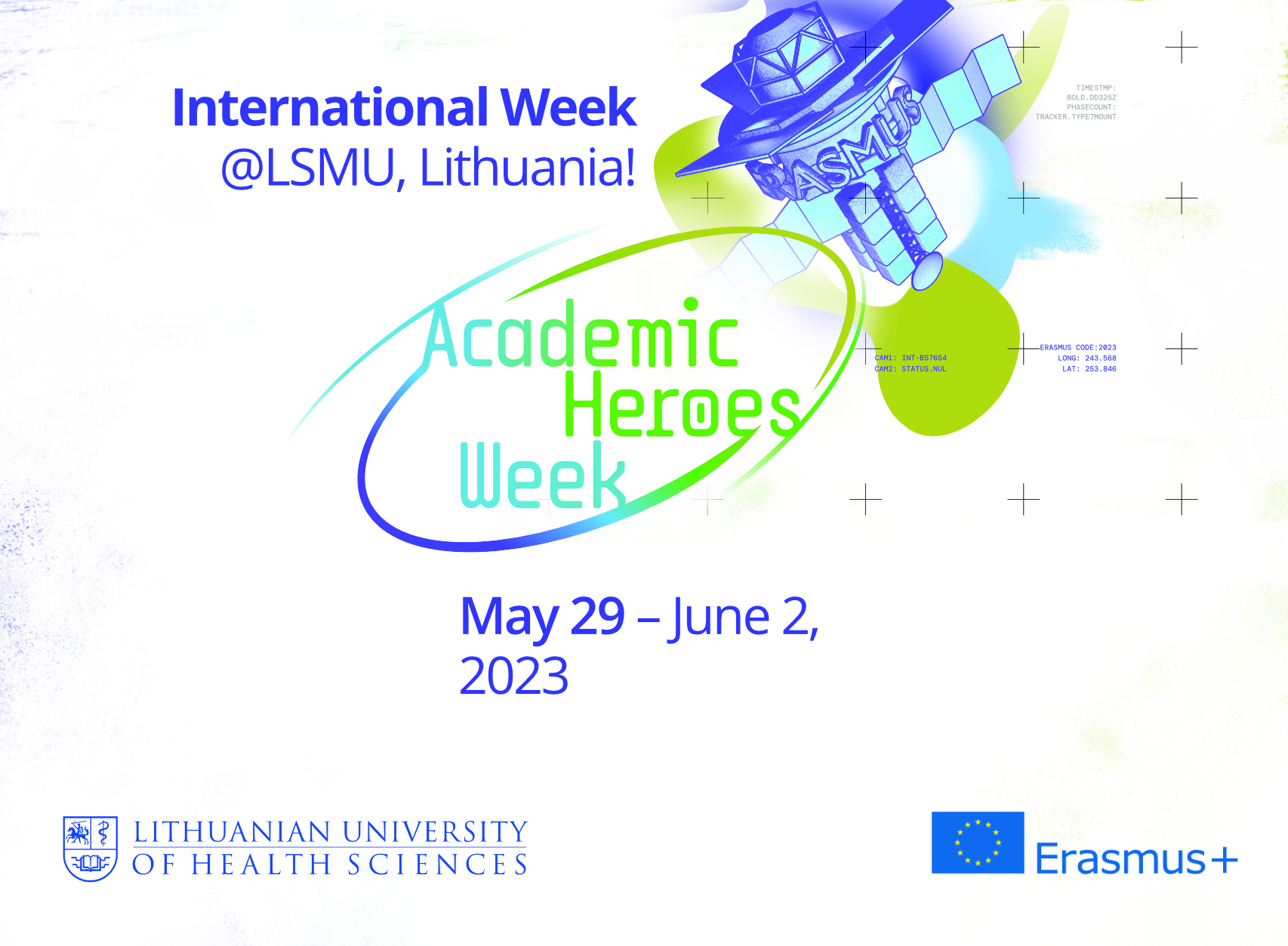 International Week at LSMU, Lithuania!
"Academic Heroes Week"
May 29 – June 2, 2023
Lithuanian University of Health Sciences (LSMU) traditionally organizes an International Week, 2023 "Academic Heroes Week"
International Week (IW) this year is mostly designed for teachers of the partner universities. Lectures will be appreciated in study programmes in the fields of Medicine, Odontology, Pharmacy, Lifestyle Medicine, Management of Public Health, Psychology, Nursing, Occupational Therapy, Physiotherapy, Veterinary Medicine, Animal Science.
Programme. In addition to international teaching experience, an engaging schedule of face-to-face activities will offer participants a wide variety of presentations, lectures, and insights on University's everyday life. 5 days of great experience is guaranteed including:
topics of internationalization,
spheres of science & research,
theme of health for all,
cultural exchange programme,
workshops & socializing.
Check out for testimonials of other participants about previous LSMU IW here. All participants will be kindly asked for active involvement in discussions and activities.
Visit to IW may be formalized as ERASMUS+ Mobility Exchange. For Teaching visits there will be given opportunities to combine teaching activities and participation in IW.
Fees. There is no participation fee. All events will be held face-to-face in Kaunas, Lithuania.
Certificates. All participants will be awarded Certificates of Attendance.

Registration. Please fill in on-line registration form here .
Maximum of 40 participants will be selected for the participation in the Staff Week. Max. 2 persons from one institution.
Priority will be given to: first-time participants and mobilities for teaching.
The deadline for registration: April 15th, 2023.
Do you have any questions? Please contact us: staffweek@lsmu.lt