LSMU 3×3 basketball tournament to win the Rector's Cup
< Back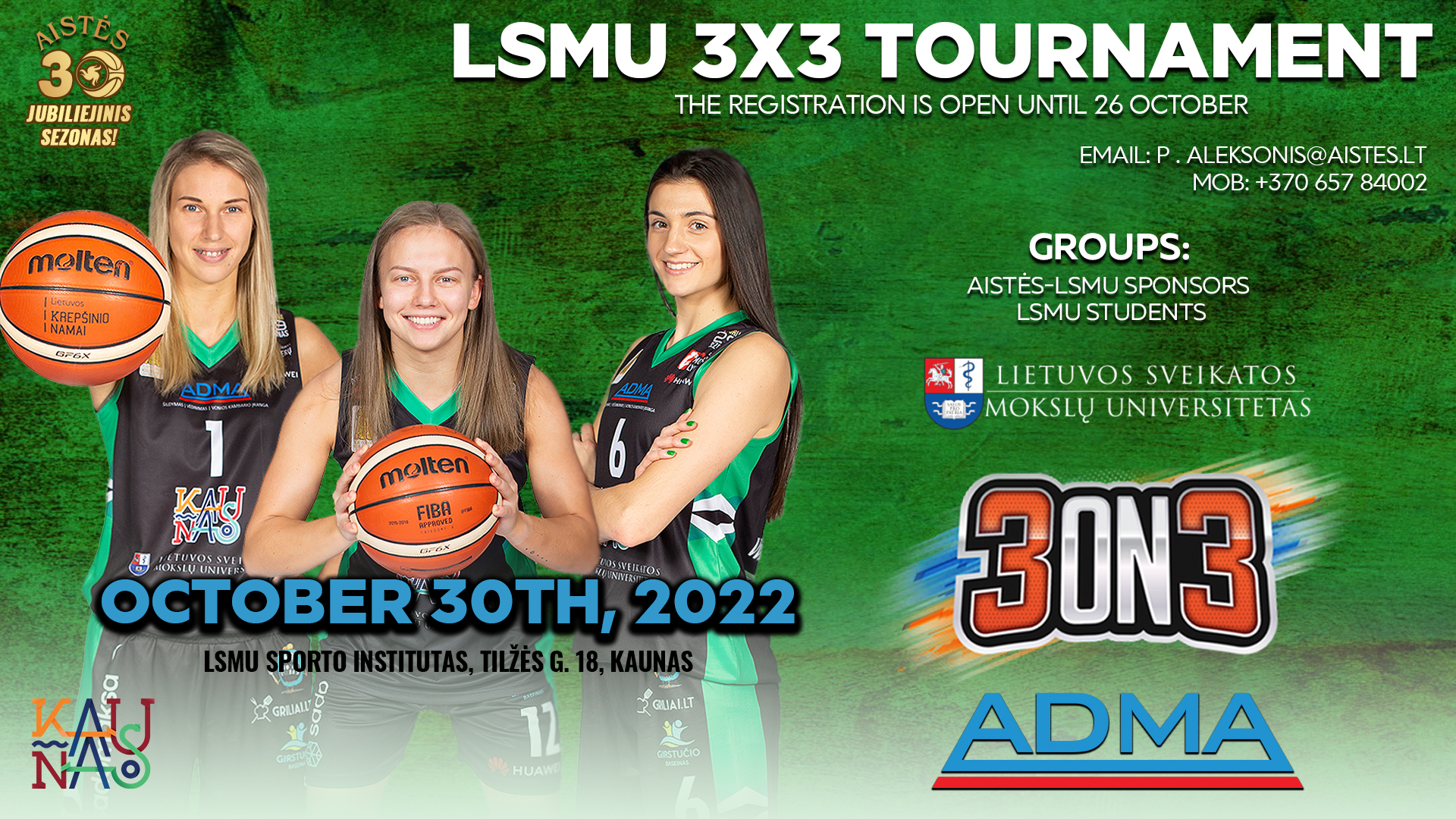 The Lithuanian University of Health Sciences (LSMU) together with the women's basketball club Aistės-LSMU invites you to the free LSMU 3×3 basketball tournament, which will be held on 30 October 2022 at 10:00 AM, at LSMU Sports Centre (Tilžės st. 18, Kaunas).
We invite LSMU students and other members of the University community (lecturers, members of the administration) to compete in the tournament.
"We want the members of our community to be healthy and sporty, so we invite you to participate in an extraordinary basketball celebration, during which you can fulfil yourself on the basketball court and gain various experiences there.
Emotional health is important for everyone, so we expect a high level of involvement of Lithuanian and international students. Sports often become a great platform to discover many new friends, to get to know your colleagues and like-minded people, of which the LSMU community has more than one thousand.
Therefore, we invite you to be active and participate in the LSMU 3×3 basketball tournament, where not only 3×3 basketball battles will take place, but students will also be able to test themselves in various basketball competitions. We are waiting for everyone on 30 October at the LSMU Sports Centre", Petras Aleksonis, head of the women's basketball club Aistės-LSMU, invited to the sports event.
During the event, the traditional LSMU 3×3 basketball battles, the Caravan competition, the election of the most accurate penalty shooter, a sniper competition, and a unique opportunity to compete with the girls of the Aistės-LSMU team await.
Time of the tournament: 30 October 2022 from 10:00 AM to 6:00 PM.
Place of the tournament: LSMU Sports Centre (Tilžės g. 18, Kaunas).
At the LSMU 3×3 basketball tournament you will be able to compete in these groups:
LSMU students
Aistės-LSMU supporters' group
Teams can be registered until 12:00 o'clock 27 October 2022, via this e-mail address:
More information tel. no. +370 657 84 002.
When registering a team, the following information is required:
• Name of the team.
• List of 3-5 player(s) (name, surname, date of birth, document confirming LSMU membership –student card, etc.). Submitting falsified or untrue documents/data will result in disqualification of the team.
• Contestants are responsible for their own health.
• The number of participants is limited, so the organiser reserves the right to end registration early.
• Registration for competitions will take place on the day of the event.