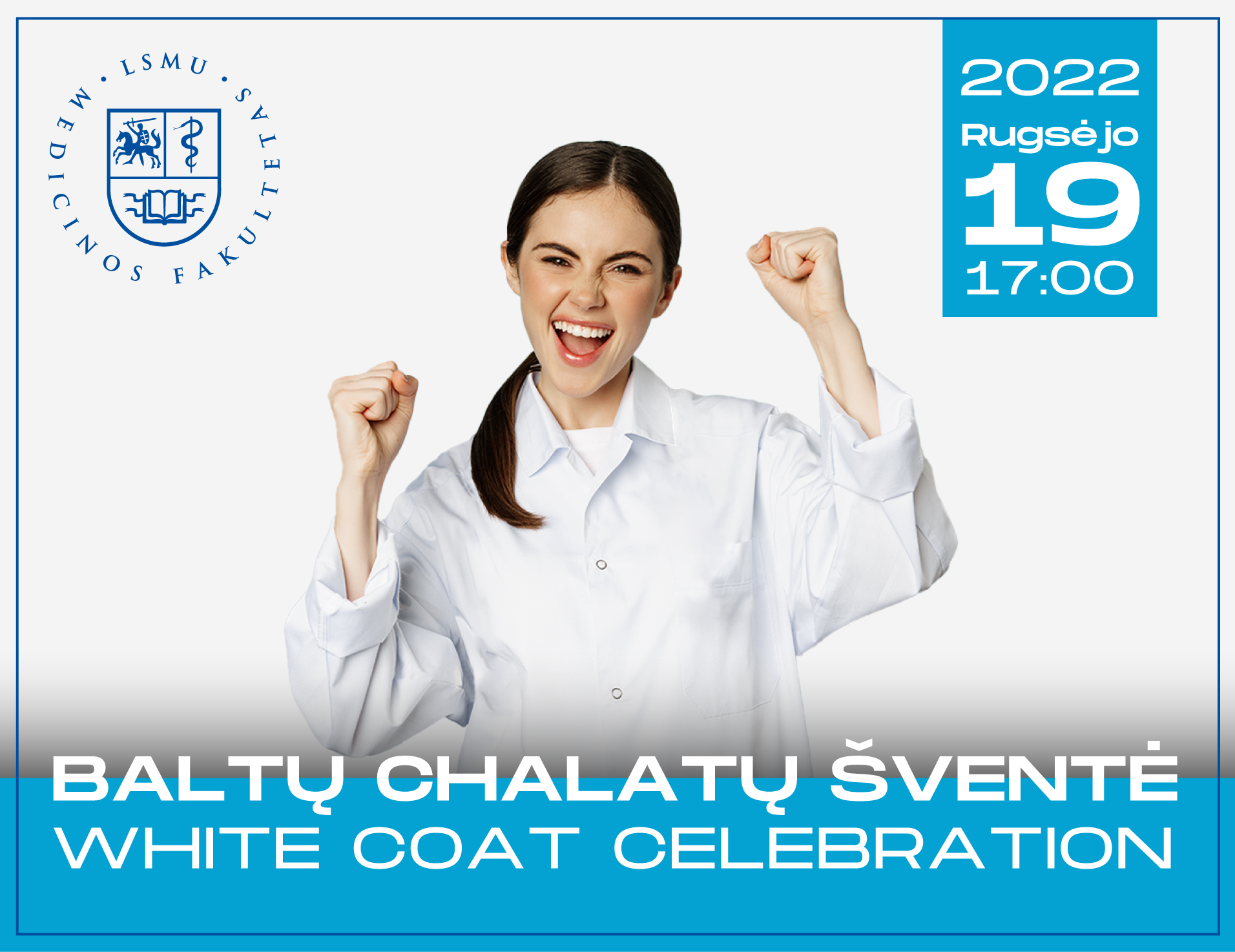 The Lithuanian University of Health Sciences congratulates the freshmen on choosing the honorable medical profession. This profession is best represented by a white coat that exudes comfort and impeccable hygiene. This outfit is associated with deep knowledge, empathy and respect for the patient, lecturers, and colleagues. It is a symbol of commitment to perform one's duties responsibly and honestly.
In order to consolidate this commitment and officially accept freshmen to the professional medical community, on September 19th we will hold a celebration at MLK, during which we will present them the most important clothing of the study period – WHITE COAT. Future doctors will confirm their promise to study medicine responsibly and honestly by saying the symbolic Hippocratic Oath.
During the event, LSMU rector prof. R. Benetis, Dean of the Faculty of Medicine prof. A. Tamelis, emeritus Remigijus Žaliūnas and others will give speech. The event will take place in MLK Z. Januskeviciaus Hall.
The history of white coats
The first medical clothing appeared in the Middle Ages and looked completely different then than it does now. Nurses' uniforms were based on nuns' clothing. A special cover covered their hair and neck, while the almost floor-to-ceiling abbot was heavy and impractical. Doctors wore plague costumes – wrapped in dark clothes from head to toe, and their faces were hidden under a characteristic mask with a beak and peculiar glasses. It was believed that a perfume-soaked cloth placed in the beak protected doctors and prevented them from inhaling disease-contaminated air.
Medical uniforms began to change in the second half of the 19th century. Nurses' uniforms gradually lost their resemblance to religious dress, and doctors, who began to pay more attention to hygiene and comfort, began to wear white clothes. At the same time, as the importance of sanitation was realized, rubber gloves were also introduced. These attributes, along with the familiar stethoscope, gradually became a symbol of the medical profession.
Meanwhile, current fashion offers an extremely wide selection of professional medical clothing. Modern medical gowns are comfortable, practical, and made of quality fabrics. It is true that now doctors can choose from many colors. However, practice shows that most of them stick to the white coats that are best known to the public and have already become classics.