LSMU Alumnus Dr. Ariel Krutouz: 'As a Human Being, an Israeli and As a Doctor I Believe It Is My Duty to Help In Situations Like This'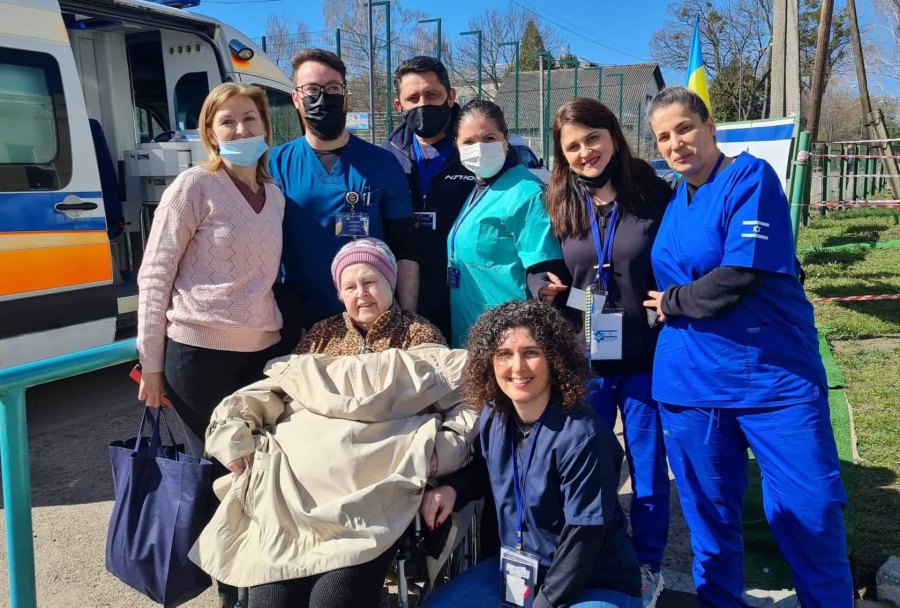 February 24th, 2022, marks one of the darkest days in modern history. But at the same time, it was a day that united the world. People in many countries were gathering en masse in protests to support Ukraine, providing not only financial, humanitarian, or other assistance, but also their knowledge. The medical community united for Ukraine as well. Volunteers from different parts of the world work inside and outside of the Ukrainian territory providing help for people suffering physical and mental injuries of the war. LSMU Alumnus Dr. Ariel Krutouz is among this group of medics volunteering in Ukraine. He agreed to share his experience with us.
LSMU Alumnus Dr. Ariel Krutouz: I am a proud LSMU Alumnus, class of 2017 from Israel, I work in Shamir Medical Center in Internal Medicine department. I was born in Ukraine and moved to Israel when I was 2 years old. When the war began, I immediately wanted to help the people of Ukraine. I was looking for different opportunities. Israel sent a lot of delegations to different refugee camps, but only one delegation was on Ukrainian soil, I applied to this delegation and was accepted as the Head of Hospitalization department. "Shining star" hospital ("KOHAV MEIR" called after Israel's first female prime minister Golda Meir that was born in Ukraine) is located in the city of Mostyska, 15 km from the border with Poland.
Our field hospital is well equipped. The delegation consists of amazing and talented personnel from different disciplines of medicine. Everyone is highly motivated to help the local population and refugees from all over Ukraine. One of unique things about this delegation is the emotional and psychological support that we provide. We have a team of Psychologists and Psychiatrist that help with different types of traumas of men women and children. We reach out to other refugee camps close by and send word and transport to encourage people to come for checkup and treatment.
In several more complex and difficult cases we have international collaboration for treatment that we don't have here. We collaborate with local hospitals for surgery with joint staff of Ukrainian and Israeli surgeons. We have a special tent for simulations and practice where we teach, train, and share knowledge with local doctors on how to act and treat in emergency situations, and many other aspects of medicine. As a human being, an Israeli and as a doctor I believe it is my duty to help in situations like this.
Professor Ingrida Janulevičienė, Dean of the International Relations and Study Center, LSMU: We are grateful to our Alumnus Dr. Ariel Krutouz for his help and support whenever is needed: from taking part in the University 's International Education Fairs abroad to the medical volunteering activities in Ukraine. LSMU Alumni professional readiness and assessment of colleagues prove the competence and high level of medical education gained at the Lithuanian University of Health Sciences.
LSMU has been successfully working with international students for more than 30 years. We are happy to calculate that since 1996 over 1410 international students from 65 countries have already graduated from LSMU (former Kaunas University of Medicine and Lithuanian Veterinary Academy). Alumni are a part of the University community, so we look forward to renewing and maintaining contacts with them. The University is highly interested in getting in touch with the graduates, finding out about their careers and initiating common activities.