Neuroscience Institute
Neuroscience Institute of Lithuanian University of Health Sciences was established in 2011 after reorganization of the Institute for Biomedical Research of Kaunas University of Medicine, which originated in 1957 when the Laboratory of Encephalography was established.
Since 2018, the Behavioral Medicine Institute and Neuroscience Institute were merged, reserving the institution title – Neuroscience Institute.
Scientists working at the Institute are involved in basic, applied, and clinical research in various areas of neuroscience and behavioral medicine.
Currently the Institute performs research programme "Research of nervous system for improvement of prognostic and therapeutic strategies".
Since 2016, in collaboration with Departement of Neurosurgery of LUHS Hospital, within assigned competencies, Neuroscience Institute collaborates in the European reference network for rare adult cancers (solid tumours), subgroup Brain tumours (EURACAN).
There are nine Departments (Research Laboratories) at the Neuroscience Institute, namely Laboratory of Biochemistry, Biophysics and Bioinformatics, Neurophysiology, Molecular Neurooncology, Molecular Neurobiology, Toxicology, Ophthalmology, Behavioral Medicine, and Laboratory for Research of Pharmacological Regulation of Pathological Processes and Drug Metabolism. The Institute has a hospital Palangos Klinika where rehabilitation programmes for patients with cardiovascular diseases (after myocardial infarction, cardio surgery, coronary artery bypass graft surgery, after implantation of pacemaker, etc.) and treatment/rehabilitation of patients with stress related disorders (depression, anxiety, posttraumatic stress, chronic pain, fatigue and sleep disorders) are provided.
The Institute has about 160 employees, among them there are 58 scientists and 15 research personnel (6 PhD students).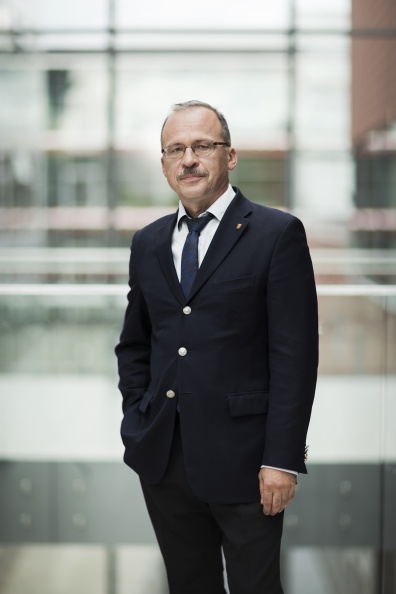 Prof. habil. dr. Arimantas Tamašauskas
Director of the Institute of Neuroscience, Medical Academy
Contacts