The Road to Intercultural Friendship – Through Cuisine and Folk Music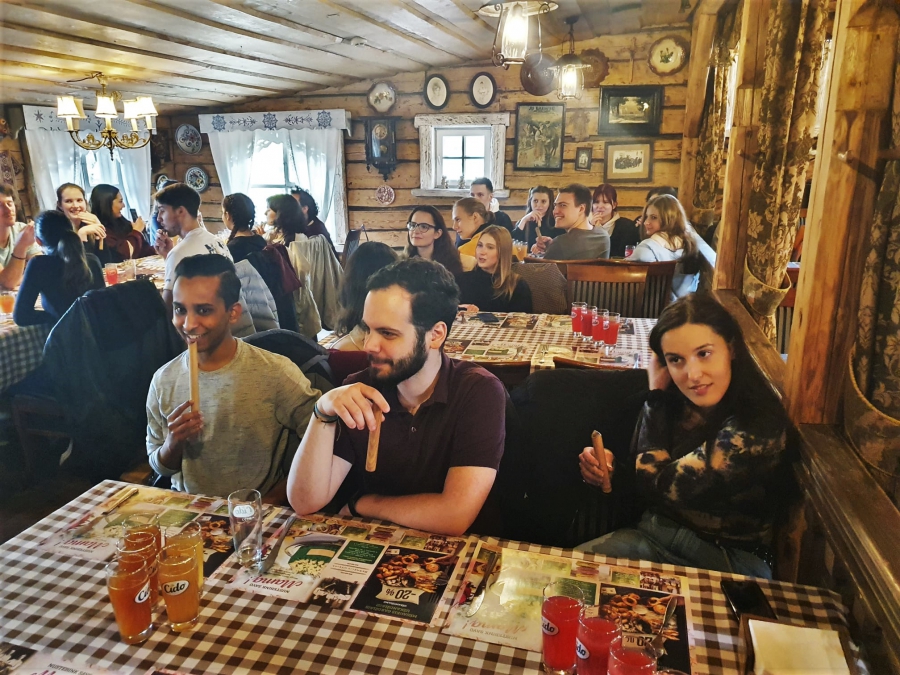 An international dinner with Lithuanian dishes and LSMU foreign and Erasmus exchange students paved the way for intercultural friendship. The LSMU International Relations and Study Center and the Erasmus Student Network (ESN LSMU) have invited international students to prepare and taste our Lithuanian, fragrant "Cepelinai" together. Cepelinai, kvass, apple juice with cumin, lithuanian drink "kisielius" – this was the food prepared for last Friday's international dinner. International students, together, as one team, peeled potatoes, grated, weighed them, prepared "Cepelinai" filling: minced meat or cottage cheese.
The secret of alchemy cuisine is not only flavors from all over the world, but also traditional dishes and recipes passed down from generation to generation. According to the Food and Agriculture Organization of the United Nations, Lithuanian eats about 250 g of potatoes a day, so almost 100 kg a year! There is not much to say about Lithuanian cuisine traditions – we all know, and almost all of us love the pride of our cuisine – "Cepelinai". The audience had the opportunity to taste this cultural heritage of ours. For many international students, this was their first time, and hopefully not the last. The guests enjoyed Lithuanian kvass and "kisielius".
And what kind of intercultural dinner without music and fun?
Saulius Lipinskas, an educator at the Education Department of the Kaunas City Museum, introduced international students to the history of folk music and traditional instruments. The audience listen to the sound of many traditional winds, percussion, string instruments, and got acquainted not only with the parts of the plants, but also with the parts of the animals that were used for making music. The students also had an opportunity to play with the instruments themselves and make their own music.
We learnt about the differences in folk music and in instruments, such as "Kanklės", based on Lithuania's ethnographic regions. By looking at kanklės one can tell about the region that it was made peculiarities, historicity, and development of kankle's development. Some of the musical instruments that were not Lithuanian but from various other parts of the world have also been recognized by our international students.
The culmination of the evening was an introduction to a unique phenomenon of Lithuanian traditional music – "Sutartinės" (a form of song with 2 or 3 voice poliphonies). According to Skaidra Jančaitė, "Sutartinės" is the oldest Lithuanian prayer, during which we can ask whatever our heart desires. Singing "Sutartinė" with an experienced folk music artist turns out to be quite simple and interesting and exciting!
Klara Möllmann (V): The "Cepelinai evening" was enjoyable! Meeting people from Ukraine, Spain, Portugal, France, the United Kingdom and much more with the same goal of meeting new people and learning about Lithuanian culture was a lot of fun. We were able to discuss the parallels and contrasts in our own cultures as it related to the food and music, we made that evening. It was, in my opinion, the ideal approach to learn about foreign cultures in the most enjoyable way possible.
Amalia Georgiou (V): About 30 people showed up, we started with the music & everyone got the chance to play with an instrument and sing and then we cooked "cepelinai", I think it was nice, people seemed to have fun & learned a bit more about Lithuanian culture, it was well organized.