Kaunas Universities Celebrating the Beginning of the Academic Year: Upbeat Mood and Youthful Enthusiasm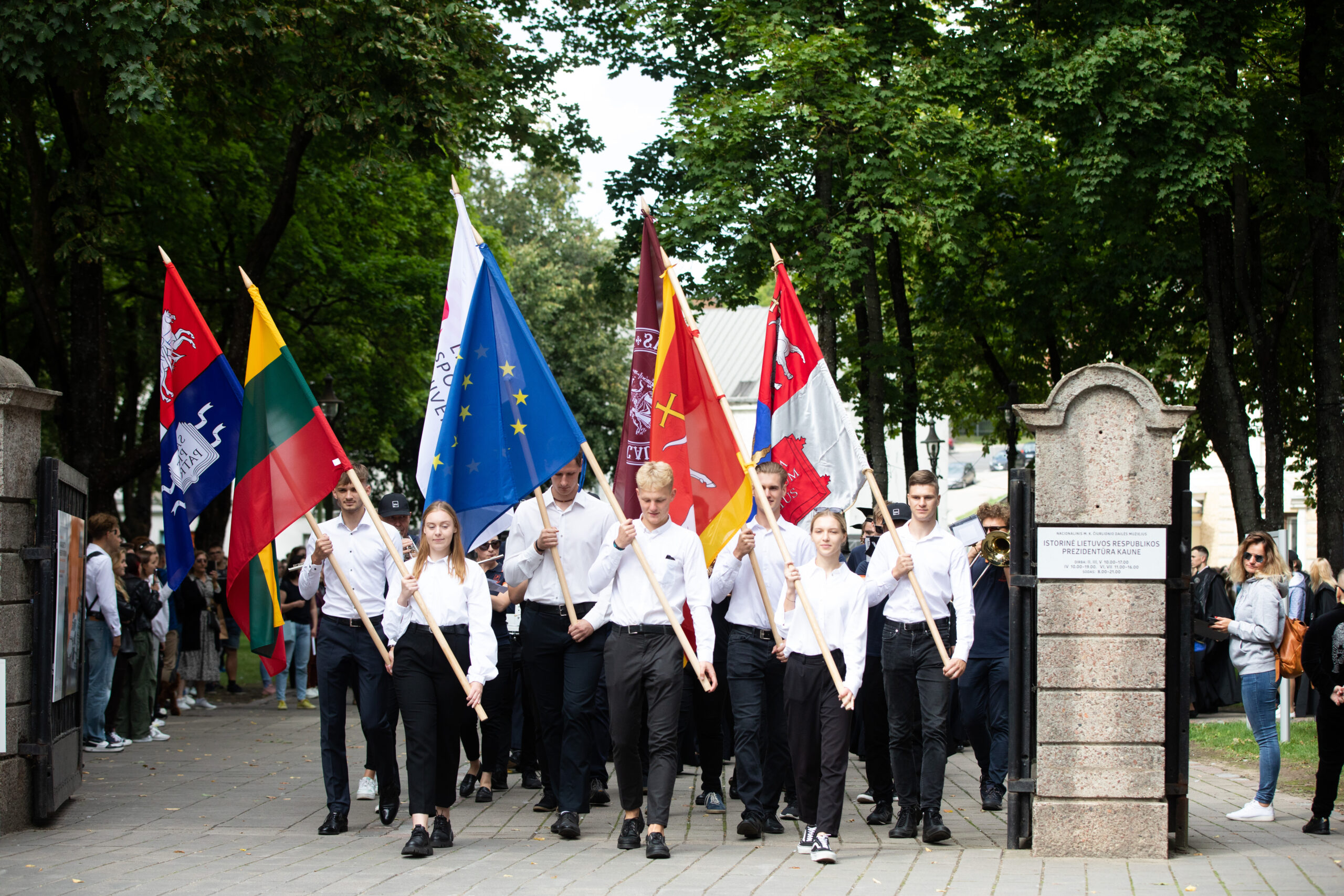 Last Friday, 1 September 2023, the city centre once again became the venue for a joint celebration of the beginning of the academic year for Kaunas universities. Several thousand students of the Lithuanian University of Health Sciences (LSMU), Kaunas University of Technology (KTU), Lithuanian University of Sport (LSU), and Vytautas Magnus University (VMU) came together to celebrate the Day of Science and Knowledge together.
The event started in the courtyard of the Historical Presidential Palace of the Republic of Lithuania. Here, the first-year students of Kaunas universities collectively took the oath, and then, bearing the banners of their Alma Mater, paraded along Laisvės Avenue towards Independence Square.
The President of the Republic of Lithuania, Gitanas Nausėda, delivered a congratulatory address to the young people in the square, which is considered to be the heart of Kaunas New Town. "To pupils and students, particularly those embarking on their first year of education or studies, I wish that the thirst for knowledge and the joy of learning evolve alongside your personal growth. On your path of education and knowledge may you always find guidance from sincere, wise, respectful, and creative teachers, lecturers, and mentors who are ready to support you not only in your academic achievements but also in the pursuit of dreams," said the Head of State in his greetings on the occasion of 1 September.
A joint concert by the university choir and music performer GJan became the culmination of the celebration. The event was brimming with high spirits, dancing, youthful energy, and new friendships.
Growing Popularity among International Students
During the celebration of 1 September, the first-year students of LSMU were dressed in the colours of the University's coat of arms, drawing everyone's attention. A total of 1,600 students have opted to study at LSMU this year, with a quarter of them being international students. Most of international students came from Sweden, Israel, and India, and quite a large group of young people came from Norway, the United Kingdom, Germany, France, and other countries.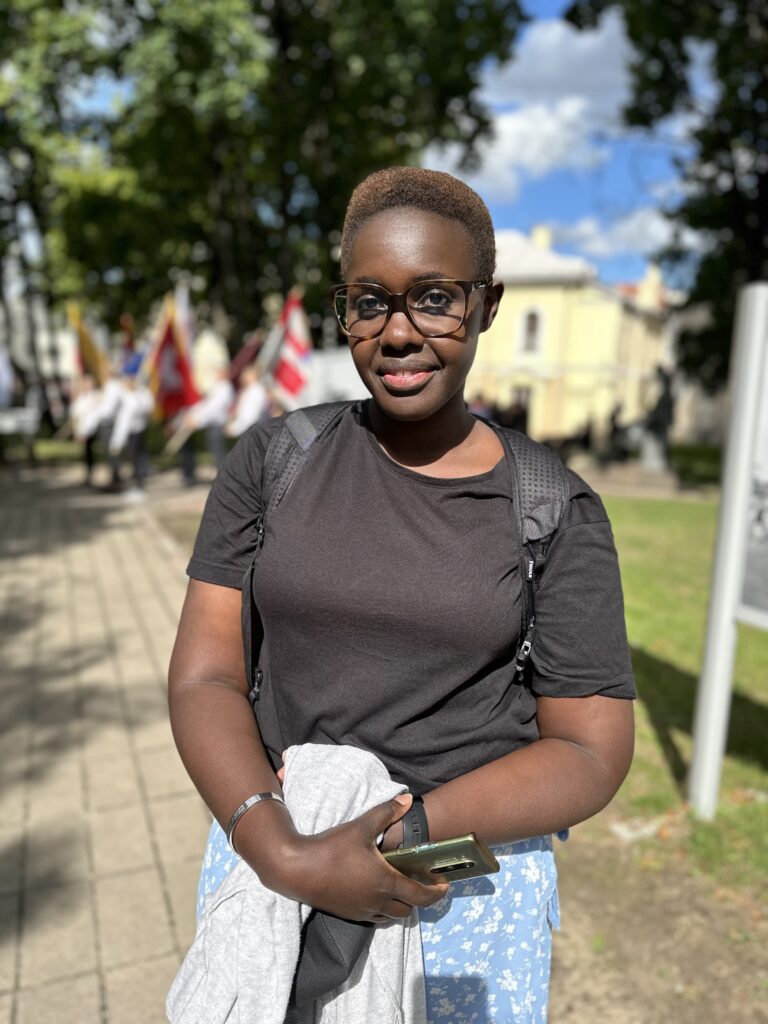 "The coming academic year will be full of challenges and opportunities. Do not be afraid to explore and create, because our Alma Mater is open to your ideas. The future is in your hands, and the road to it will be built on the knowledge and skills you have acquired during your studies," said Prof. Rimantas Benetis, Rector of LSMU, in his congratulatory message to all students.
LSMU stands out as one of the most international universities in Lithuania, thus it is hardly surprising that an increasing number of young people from abroad choose it every year. Shamira Kasajja, a first-year medical student from Sweden, has shared that she decided to opt for LSMU based on favourable recommendations.
"LSMU is a well-known and highly regarded university in Sweden. A friend who studied here recommended it to me. When I did more research, I realised it had everything I needed. I have been in Kaunas for two weeks now and I will be studying in a mixed group alongside Lithuanians. So far, I like everything, the people seem friendly," she said.
Medical Studies – A Childhood Dream, Hence No Fear of Challenges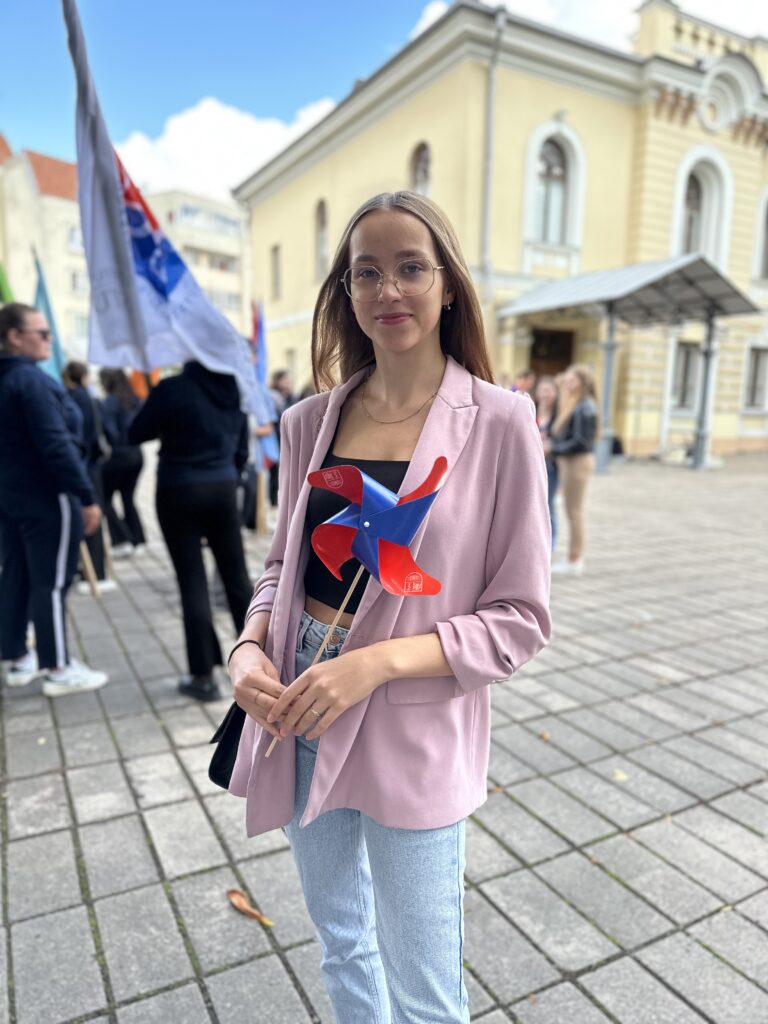 Lina Grinevičiūtė, also a first-year student of the Medicine study programme, notes that she has dreamt of studying in this field since childhood, thus she is not afraid of the challenges that may arise on the long path of studies.
"Studying medicine has always been my childhood dream. I did have moments of uncertainty, even contemplating law as an alternative, but ultimately, I remained true to my initial choice. Despite warnings from others about the challenges ahead, I remain optimistic and hopeful," Lina stated.
She praised the strategically favourable location of LSMU in central Lithuania. "Kaunas is a city I know quite well. I come from Šakiai, so I'll be close enough to home," she said.
Congratulations to the first-year students as they embark on the new phase in their lives, and best wishes for success in their scholarly and intellectual journey!
More pictures here.